S-250 Shelters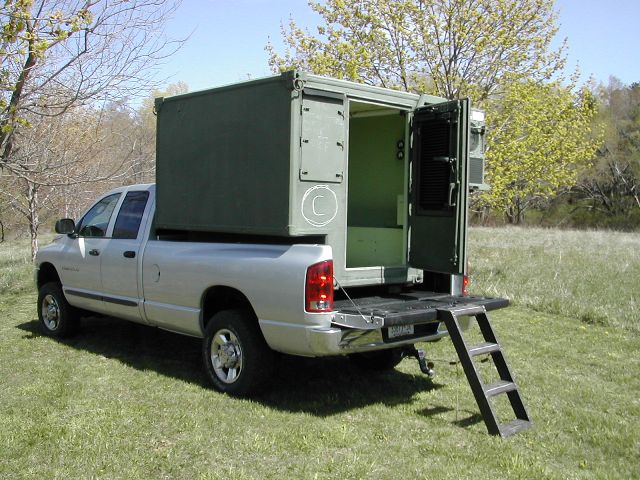 S-250 Shelter on Full Size Pickup
Description
The S-250 shelter comes in a variety of configurations. Overall exterior dimensions are approximately 89"L x 73"W x 73"H with the base narrowing to 49". Weight is between 1100 and 1500 pounds depending on the configuration. The units are insulated with about 2 inches of foam between the inner and outer aluminum skins. The door is lockable from both the inside and outside.
All units are wired for power and lighting. Some units have both AC and DC systems. We have power cables to mate with the special shelter connectors if required. Ventilation is provided by several vents and a blower. Some units are also equipped with air conditioners (working condition unknown).
Price and Availability
We have one unit in stock. The unit is set up for a front mounted vertical ECU. Price is $1000, inquire for pictures. We also have an associate in the Glyndon, Maryland area with a good inventory of S-250 shelters. Contact Tim Clark at glengar@verizon.net for additional information.
Shipping
Due to their relatively large volume, shipment by common carrier is prohibitively expensive. For short moves, we work with a local towing company for transportation. For most distances over 100 miles it will be more cost effective to pick one up in person. We have equipment and facilities to load any truck or trailer.